The Boise Fry Company is the best potato joint in the capital of America's potato state. How could it be anything other than amazing? We visited on our final day in Idaho, eager to fill our bellies with greasy goodness, and were not disappointed.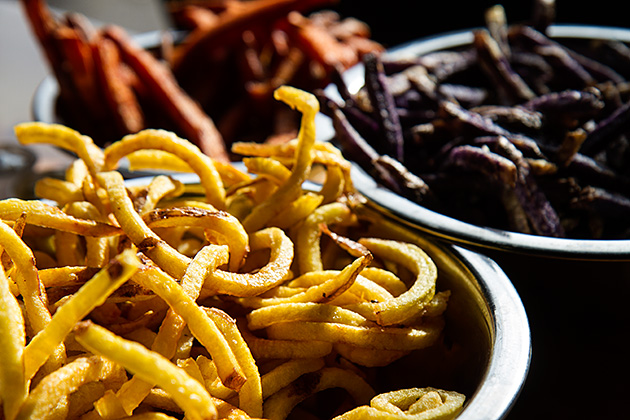 Boise is blessed with a lot of excellent restaurants. During our two weeks in the city, we enjoyed great meals at Chandler's Steakhouse, Bar Gernika, Cobby's, The Fork, Goldy's, Bardenay, Mai Thai, Cazba and the Red Feather, among others. Seriously, if you're looking for good eats in Boise, check out any of the aforementioned. But the restaurant we'll most remember is probably the Boise Fry Company.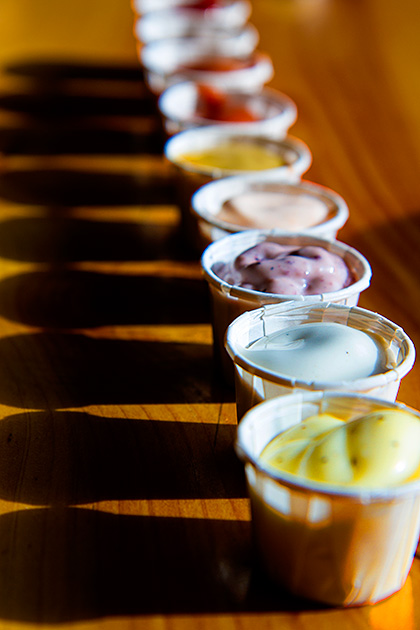 There's a sign out front which says "Burgers on the Side", and that's no mere witticism. Here, the french fries really are the main course. You get to choose between seven different sorts of potatoes, each of which can be cut in a variety of ways. There are nine various dipping sauces available, from ketchup, to chipotle aioli, to marshmallow sauce.
Yep: marshmallow sauce. That might sound revolting at first blush, but just try dipping one of the thick sweet potato fries into it. Heavenly. We ordered a bunch of different baskets, trying out everything from Russet to yam to pretty purple potatoes, and had a blast experimenting with various combinations of sauces. Yeah, there were burgers and homemade root beer, too; delicious, but almost an afterthought. Our attention had been completely captured by the fries.