The Smoke-Choked Canyon of Rapid River
For a couple weeks in late September, the wildfire smoke which had been choking West Central Idaho was a habitual part of every conversation. "Never seen it like this!" "The worst year I can remember!" "Usually you can see the mountains from here!" Though it might have ruined the views, we decided to pretend that we were lucky to be present for the smokiest season in decades. Yeah, we planned it perfectly! How many other people get to see smoke like this?!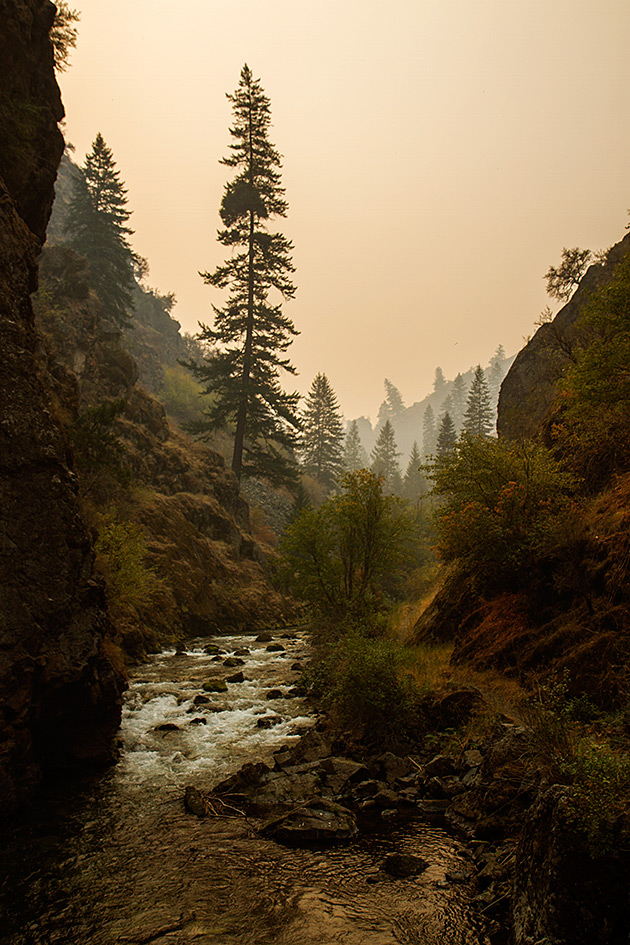 When we pulled into the Rapid River trailhead just south of Riggins, the smoke was the heaviest we'd yet seen. But far from ruining the experience, and I'm not just being facietiously optimistic, the red-tinted clouds created a kind of permanent sunset, tinting the landscape under an eerily beautiful light. The trail we'd be exploring (#113) follows the canyon almost interminably, and we had decided to go for an eight-mile round-trip hike.
Getting out of the car, we noticed it had a flat tire. And a subtle feeling of dread began to come over me. The smoky, blood-red sky, the stern warnings from townsfolk about rattlesnakes in the canyon, and now a flat tire? That's the first five minutes of every horror film ever made.
Luckily, we didn't encounter a single rattlesnake during the entire hike. Though, the first time a cricket chirped in the brush next to me, I screamed and jumped backwards. In fact we didn't spot any wildlife at all unless you count a Praying Mantis or a pile of berry-licious bear poop.
Despite the hike's eight-mile length, it was easy. Mostly along the river, with only occasional steep hills. As the hours passed, my fear of snakes vanished and I even found myself hoping to see one. I'm beginning to think that spending time in the wilderness just makes you tougher. By the time we got back to the car, we were dusty and smalled of manly B.O. We got that flat tire changed in two minutes, spitting on the ground, hands dirty, and bragging about how we'd have strangled them cowardly rattlers had they have shown themselves. Grr!
Location of the Rapid River Trailhead