Snowbank Mountain and Blue Lake
Wearied by the three-day journey across America, we kept close to Cascade during our first week in Idaho. Not a problem, since there is plenty to see. The day after our loop around Lake Cascade, we drove up to the summit of Snowbank Mountain and completed a short hike to Blue Lake, tucked away in the hills of the Boise National Forest.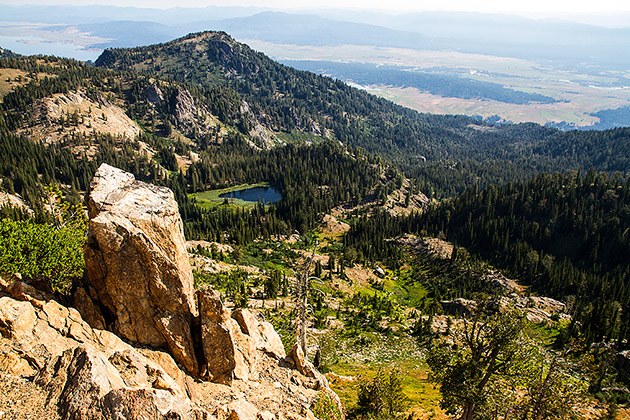 The drive up Snowbank was uncomplicated, following NF-446 all the way to its end. This was our first time on one of Idaho's many National Forest Service roads, and it wasn't nearly as rough as we had feared. Not all the NFS roads are as well maintained, particularly as you get away from population centers. But NF-446, while unpaved, was smooth and easily large enough for two vehicles.
We started our ascent in the morning, and enjoyed spectacular views of Cascade's Long Valley awakening to vibrant life in the strengthening sunlight. The scene from the top of Snowbank Mountain was magnificent. We passed by an FAA Radar Station and parked next to an antenna tower where we took in a panoramic view which stretched out over Lake Cascade, extending for miles in every direction.
On the way back down, we stopped at a trailhead marking a one-mile hike to Blue Lake began. This was a short, simple walk, which wound slightly downhill through fields of wildflowers until reaching the lake, as sparkling blue as its name implies. There were some fishermen already present, as well as a rowdy group of kids on the far end of the lake who had spent the night camping.
Location of Blue Lake on our Map
-FEED YOUR KINDLE:All Of Our Travel Books On Amazon